At last, it's arrived: CrimboLimbo, the restorative Yuletide-New Year lull. This 4-day ceasefire allows us to do whatever it takes to re-energise and ready ourselves for 2016 and all it promises.
With a clear conscience, we can turn our backs on bickering relatives, balding tinsel, curling turkey sarnies, and the indestructible mince pie, which, thanks to trans-rich, partially hydrogenated vegetable oils, will outlive everything, even cockroaches.
So, when did the seasonal madness start? Hard to pinpoint it these days as Christmas, New Year, Valentine's Day, Easter, Mother's/Father's Days, Hallowe'en and Bonfire Night coalesce into a non-stop retail tornado.
Maybe it was the CIPR Awards in Bristol. Shortlisted for Best Publication in the South of England and Channel Islands (for the magazine, StannahTalk), we and the Stannah Stairlift contingent celebrated into the small hours:
Or maybe our pre-Xmas shindig escalated proceedings, an evening of Roaring Twenties speakeasy craic at nearby Stoneham Park: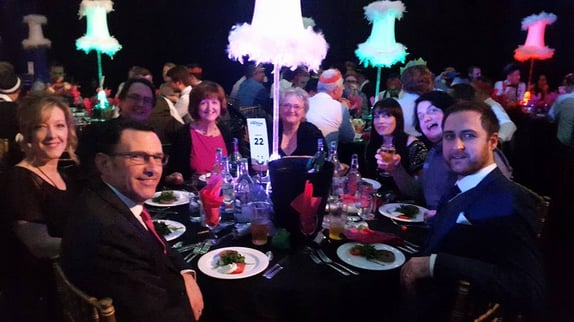 And maybe the substantial arsenal of mince pies that led up to the break didn't help either.
To crown it all, we are in week two of a major premises refit that will hone our marketing capability to match the challenges of the immediate future.
We're back in harness on Monday, January 4, and itching to Jeremy-Clarkson our pimped-up machine.
Whatever you are doing to get through, make CrimboLimbo work for you.
See you after Part II of the seasonal scrum!
Why not use this time to sharpen your marketing appetite for 2016?...