Over the past couple of weeks at bandv ,we've been getting into the festive spirit client style by getting stuck into some of our client's 2017 campaigns.
Stannah Talk – The Christmas Issue has arrived!
It's here! The winter edition of StannahTalk has arrived in the office and we've been getting stuck in to the latest issue whilst enjoying a few festive treats too. It is Christmas after all!
StannahTalk is a relaxed, informative and amusing read for Stannah stairlift users that's delivered direct to their doors.
bandv is involved in all areas of the free, bi-monthly magazine, from design, research and writing to production and distribution. We must be doing something right as this issue's distribution totalled a whopping 27, 682! That's a 2,500 increase every six months since the first issue went out in 2011.
Read the Christmas issue of StannahTalk yourself
'Liam Loves Escalators' - bandv Colouring Competition
The 'Liam Loves Escalators' children's safety campaign by our client LEIA (the trade association and advisory body for the lift and escalator industry) has certainly kept bandv busy in the last quarter of the year, with almost 20,000 copies of the children's book and colouring poster having now been distributed to parents and families.
The 'Liam Loves Escalators' children's storybook was written by bandv's PR Director Angela Breckenridge and the fabulously fun illustrations were put together by our Graphic Designer Sally Berkeley. bandv has also been busy managing all promotion and advertising of the new 'Liam Loves Escalators' storybook.
As part of the campaign to encourage children and their families to stay safe when using escalators, LEIA are also running a colouring competition, giving children the chance to win their very own dinosaur cuddly toy, just like Liam's in the story.
Although LEIA's competition is strictly for children, we thought it would be fun to run our own bandv colouring competition, so that's just what we did.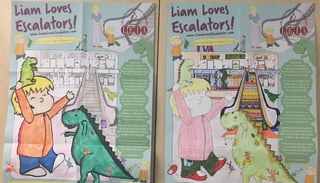 Visit LEIA's website to download your free copy of the 'Liam Loves Escalators' children's story book!